RESOURCES FOR RESCUES AND SANCTUARIES
The below sections include links to materials and outside organizations that can provide assistance and guidance to Equine Rescue, Rehabilitation, and Sanctuaries.  These Resources will grow as more are found and become available.
OPERATING GUIDLINES AND PROCEDURES FOR RESCUES:
The below resources are intended to provide Standard Operating Procedures and Guidelines for Shelters, Rescues, Sanctuaries, and Retirement Facilities.
ANIMAL WELARE INSTITUTE / HUMANE SOCIETY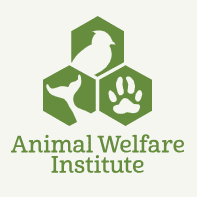 There are all types of equine management facilities, from state-of-the-art complexes with individual stalls and caretakers for each horse to more basic operations where horses are pastured year-round with access to simple run-ins for shelter. Depending on the resources available, including acreage, quantity and quality of forage, staff levels, management preferences, numbers of equines, and a variety of other factors (including financial considerations), management practices can vary widely. However, with a sound knowledge of equine management, good planning and some creativity, equines can be kept healthy and happy without spending too much money.
Caring for a horse or other equine (the broader term of equine is used throughout this document) is a significant, time consuming, and long-term commitment not to be entered into lightly. No organization or facility should house more equines than can be managed with available resources, particularly where the health and condition of the equines and sanitation of the facility are concerned. Taking in more animals than can reasonably be cared for endangers the welfare of the animals and their caretakers.
Equine rescue and retirement facilities must have good working relationships with local licensed veterinarians and should consult with them as needed on various matters, including routine health maintenance, emergency veterinary care, and the evaluation of incoming equines. Facilities also should have good working relationships with local farriers. Forging a relationship with local law enforcement, humane organizations, and other equine rescue and retirement facilities is also encouraged.
Telephone numbers for veterinarians, farriers and other professional service providers should be prominently displayed at the facility in case of an emergency. Written documentation on matters such as feeding, schedules and medications should be kept in a central location so that more than one person is aware of and has access to the standard operating procedures. Developing and practicing an emergency preparedness plan, including an evacuation routine for both people and animals, is also highly recommended.
These guidelines, while applicable to general equine management, are designed especially for use by non-profit equine rescue and retirement facilities. While not exhaustive, they offer basic parameters for operating such a facility. In addition, any facility or individual keeping equines must comply with all relevant federal, state and local laws and zoning ordinances.
AMERICAN ASSOCIATION OF EQUINE PRACTITIONERS

Rescue and retirement facilities play a vital role in providing lifelong care as well as finding new owners for horses, or other equidae, that may be considered "unwanted" or have been subjected to neglect or abuse.
Recognizing the importance of these facilities, the AAEP has developed care guidelines in order to provide guidance about the care of a horse throughout its life. While principles of basic horse care and management apply to all horses regardless of their situation, those horses entering rescue or retirement facilities may arrive with unique health challenges. For these reasons, employees and volunteers should understand and appreciate basic horse care as well as be able to recognize health conditions that may require medical attention from a veterinarian.
RESCUE AND SANCTUARY ACCREDITATION:
The below resources are intended to provide options for Accreditation for Rescues and Sanctuaries.
GLOBAL FEDERATION OF ANIMAL SANCTUARIES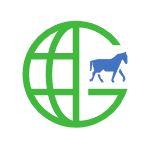 Accreditation
Our mission is to improve the quality of care to animals in need of sanctuary. Our primary tool for achieving this mission is offering the only animal sanctuary accreditation program serving animals worldwide.
Why is Accreditation Important?
Not all sanctuaries are created equal. Animal care is a poorly regulated industry, and thousands of organizations worldwide which describe themselves as "sanctuaries" or "rescues" do not provide quality or humane care for their animals.
For all people invested in the welfare of captive animals, including donors, grantmakers, supporters and legislators, there is a shared desire to differentiate true sanctuaries. Through our evaluation process, GFAS can ensure that those designated as GFAS-Verified or Accredited uphold the highest standards for the animals in their care.
Any organization that meets our eligibility criteria may apply to receive GFAS Accreditation or Verification. GFAS is proud to provide assistance to Accredited and Verified sanctuaries, including standards of operations, educational resources, mentorship, and support in times of difficulty.
Find out more about the benefits of accreditation here.
Are you a true sanctuary?
GFAS Accreditation/Verification is available for any facility that provides a safe haven for animals in need for any amount of time and follows the principles of a true sanctuary. This includes facilities traditionally describing themselves as sanctuaries, rescue centers, and rehabilitation centers around the globe. Find out more about who can apply here. Or start the accreditation process:
THOROUGHBRED AFTERCARE ALLIANCE

From TAA Website:
It is the intent of the TAA to accredit all sizes and types of organizations. When going through the process, keep this in mind. Some standards and/or questions in the application may not be applicable to an organization of your size or type.
Due date for the application is April 1, 2019 at 6 p.m. EDT.
According to the TAA's Code of Standards, accreditation status is determined after a complete review of five areas: operations; education; horse health care management; facility standards and services; adoption policies and protocols.
At a minimum, organizations applying for TAA accreditation must fulfill the following five requirements:
Organization must have a current status as a 501(c)(3) federal not-for-profit (U.S.) or must be a registered charity within the meaning of the Income Tax Act (Canada).
Organization must have been in operation for at least three years, based on the filing date with the secretary of state or provincial business registry.
At time of application, organization must either (1) currently exclusively own and provide care for a minimum of 5 registered Thoroughbreds, or (2) currently exclusively own and provide care for at least 3-4 registered Thoroughbreds AND must have exclusively owned and provided care for at least 10 registered Thoroughbreds over the previous 12 months. Registered Thoroughbreds leased by the organization or owned by third parties at the same facility should not be included.
Organization must have a written euthanasia policy consistent with the American Association of Equine Practitioners (AAEP). View the AAEP's euthanasia guidelines.
Organization, or a principal of the organization and related to the organization, must not currently have legal proceedings pending against them.
If you do not meet the above minimum requirements, please contact us at info@thoroughbredaftercare.org with any questions.
Once the application is completed and reviewed, you may be contacted to schedule a site inspection for each of your facilities. This inspection will be conducted by representatives of the TAA.
Upon completion of the application, and site inspection(s), a review of your organization will be conducted to determine the awarding of accreditation.
Accredited organizations are eligible for TAA grants.
MATCHING PROGRAMS FOR HORSES AND OWNERS:
The below resources and programs are intended to help Rescues and Sanctuaries find matches between horses and owners.
A HOME FOR EVERY HORSE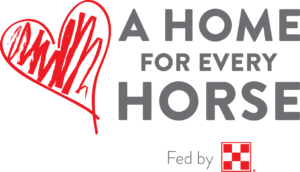 A Home for Every Horse was created in 2011 in result to a partnership between the Equine Network, the nation's leading publisher of equine-related content, and The American Horse Council's Unwanted Horse Coalition. The program provides a resource for 501(c)(3) horse rescue organizations.
The A Home for Every Horse program helps connect rescue horses in need of homes, in over 600 rescues across the United States, with people looking for horses. To make the connection between rescue horses and homes, rescue organizations can list their horses for free on Equine.com, the world's largest horse marketplace, where they can be seen by 300,000 visitors each month.
Rescue organizations involved with A Home for Every Horse are also provided with many great benefits from the sponsors involved with the program. A Home for Every Horse specifically works with sponsors to help provide much needed assistance to rescues around the country. In recent years, Purina has donated a half ton of feed to eligible rescues through A Home for Every Horse. Absorbine, WeatherBeeta and Tractor Supply provide many great donations to rescues that are featured events attended by A Home for Every Horse staff each year.
Why an Organization like A Home for Every Horse Matters
Equine rescue organizations are overwhelmed with taking care of the ever growing homeless horse population. A Home for Every Horse is dedicated to bridging the gap between rescue organizations and people that can help. Through A Home for Every Horse, over 1,000 horses annually are adopted along with many others who receive assistance from the A Home for Every Horse sponsors.
Participating as a sponsor of A Home for Every Horse, sponsors are not only able to help horses that are seeking their forever home, they are also able to involve the consumer market in helping rescue horses around the country.
THE RIGHT HORSE INITIATIVE
The Right Horse is an initiative funded by the WaterShed Animal Fund, a division of the Arnall Family Foundation dedicated to improving the lives of companion animals. Our goal is to massively increase the number of successful horse adoptions in the United States by working together to reframe the adoption conversation and shatter the stigma surrounding horses in transition.
NON-PROFIT MANAGEMENT AND FUNDRAISING:
The below resources and programs are intended to help Rescues and Sanctuaries with Fundraising, and Non-Profit Management.  Including software programs to help with record keeping.
BARNMANAGER.COM

BarnManager is excited to offer free subscriptions to all registered 501(c)(3) organizations. BarnManager is a cloud-based software solution that provides horse owners and managers with the tools they need to streamline and simplify their daily management responsibilities. The program offers digitized record keeping for the many facets of horse care, and intuitive and simple business tools to make small business management accessible and easy. Managers can access BarnManager from their computer, smartphone, or tablet to create detailed horse profiles, track medical records, schedule appointments, and more.
HOW TO START AND RUN A RESCUE: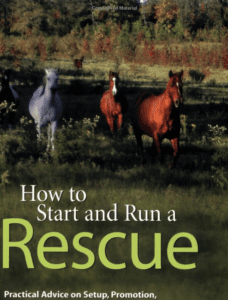 Rescue organizations abound, and it seems that each day more people become aware of the need of countless small and large animals who are unwanted and cast aside, suffering from abuse or starving from neglect. While some animal lovers choose to join existing rescues, many decide to embark upon the difficult task of creating their own organization and others become the leaders of existing groups. In How to Start and Run a Rescue, Jennifer Williams discusses the complex issues involved not only in starting a rescue but also in the long-term management of the organization. While Dr. Williams experience is in horse rescue, this book should appeal to anyone interested in starting their own rescue or improving their rescue operations for animals of any species. Dr. Williams, who has started and successfully run two rescue organizations, covers topics such as formation of a non-profit, formulating policies, fundraising and public relations. Readers involved in rescue at any level or interested in learning more about rescue should enjoy How to Start and Run a Rescue for its practical advice, insight into successful rescue operations and stories of real horses helped by rescue organization.
VOLUNTEER RECRUITING AND RETENTION:
The below resources and programs are intended to help Rescues and Sanctuaries with Volunteer Recruiting and Retaining.
ASPCA PRO

Volunteers are often a vital—and sometimes under-appreciated—component of successful shelters and rescues. Whether helping with transport, fostering, staffing special events or doing chores at the facility, volunteers fill the gaps and free up staff time.
But do you show them how much you value their contributions? And just what are the best ways to attract them, keep them and grow them?
This collection of resources can help you manage volunteers, get staff-buy-in, show appreciation and bring your volunteer program to the next level.
GIVE GAB
Top 10 Strategies for Retaining Volunteers that Actually Work
Supporter acquisition, whether its donors or volunteers, may take up most of your nonprofit's resources, but your work shouldn't stop there! After acquiring volunteers, how do you ensure that you're also retaining them?
VERIFIED VOLUNTEERS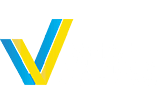 How do I recruit and retain volunteers?
If you find yourself asking this question regularly, you are not alone! Now, more than ever, communities rely heavily on a variety of nonprofit services for support and, in turn, the organizations that provide these services rely heavily on volunteer labor and donations. We touched briefly on the upcoming changes to nonprofit funding last week; these will help alleviate some of the financial struggles faced by nonprofits, but the reality remains that the need for services is too great for the number of volunteers out there. Volunteer support is an ongoing struggle for many organizations – both on the recruitment and retention fronts.
The below resources and programs are intended to help Rescues and Sanctuaries with Equine Welfare grants and grant writing.
THE HOMES FOR HORSES COALITION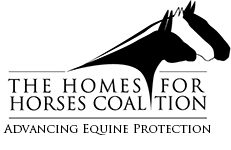 The Homes for Horses Coalition is a national coalition dedicated to increasing collaboration, professionalism and growth in the equine rescue and protection community. Our members are committed to ending horse slaughter and all other forms of equine abuse.
The coalition is a joint initiative of the Animal Welfare Institute, the ASPCA and The Humane Society of the United States. We currently have more than 440 members representing horse rescue and sanctuary throughout the U.S. and beyond.
AMERICAN ASSOCIATION OF EQUINE PRACTITIONERS FOUNDATION
ASPCA EQUINE FUND GRANTS

The ASPCA provides grants to U.S. nonprofit equine welfare organizations and other animal welfare organizations that care for horses, mules, donkeys and ponies in alignment with our efforts to protect all equines. The ASPCA seeks to award equine organizations that strive to achieve best practices both in nonprofit management and equine care. Unsolicited grants are generally awarded in amounts from $500-$5,000 and seldom exceed 10% of an organization's current annual operating budget. A site visit may be required before or as a condition of a grant.
The ASPCA will consider grants to those organizations whose focus and expertise are concentrated on reducing the suffering of equines who have lost their homes or been cruelly treated. Applicants must have already received their 501(c)(3) determination from the IRS or be a governmental/municipal agency in order to apply. Equine rescues and sanctuaries must care for at least ten equine concurrently to be considered for funding. The ASPCA will consider grant applications for equines ONLY in the following areas (submit one project or request per application).
EQUUS FOUNDATION

Grants & Funding
The EQUUS Foundation Funding program primarily consists of its Transparency Awards. The EQUUS Foundation also provides funding in association with our awards program. The recipients of our Horse Whisperers Awards, Humanitarian Award, PATH Equine of the Year Award, and WIHS Klinger Perpetual Award receive grants. Funding is also provided through our Champions Win a Grant program, the Platinum Performance Horse Welfare Awards program; and our Triumph Awards program.
OTHER GRANT MAKING ORGANIZATIONS
MSU Libraries is a member of the Foundation Center's Funding Information Network (FIN). The Foundation Center is a national nonprofit service organization recognized as the nation's leading authority on organized philanthropy. FIN Partner Libraries provide access to and/or training in using the Center's premier database for identifying grant opportunities and potential funders, the Foundation Directory Online Professional, described below. To identify other partner libraries closer to home, consult the Foundation Center's Directory of Funding Information Network Partner Libraries.
The Main Library's Funding Center collection (on 1 East) contains recently published grant and financial aid directories and books on fundraising and grant/proposal writing. Materials may be used in-house or checked out with an MSU or Community Borrower's card. They may also be requested through Interlibrary Loan. Consult the Main Library hours of operation and Reference hours to see when staff are available to offer assistance in using resources. Note: The Library is not a funding agency and Library staff cannot do your research for you, make referrals to specific grant-makers, or review your proposals.
The majority of the online resources listed in this Guide are restricted to MSU-authorized users (faculty, staff and students).