The United Horse Coalition and Corro create a partnership aimed at bringing educational resources (and more!) to horse owners Nationwide.

Contact: Ashley Harkins
United Horse Coalition
Phone: 202-817-3936
E-Mail:  UHC@horsecouncil.org
The United Horse Coalition and Corro create a partnership aimed at bringing educational resources (and more!) to horse owners Nationwide.
Meet the United Horse Coalition: 
The overarching mission of the UHC is to promote responsible ownership education and resources for at-risk and transitioning horses.  "By partnering with Corro, we hope to bring horse owners even more educational resources to help them make better decisions in all aspects of life for the horses we know and love." Says Ashley Harkins, Director of the United Horse Coalition.
The UHC is home to the Equine Resource Database, a database of nearly 1,200 rescues, sanctuaries, municipal facilities, direct placement programs, and assistance programs within the continental United States, Puerto Rico, Alaska, and Hawaii that work with at-risk equines.
https://unitedhorsecoalition.org/equine-resource-database/
The database includes assistance programs for:  hay and feed, castration assistance, veterinary assistance, microchipping, euthanasia and disposal assistance, behavior and training, transportation, direct placement options, Law Enforcement assistance, disaster assistance, large animal technical rescue, grant funding opportunities, and other various assistance programs.
Meet Corro: The One Source for All Things Horse
Corro is proud to partner with the United Horse Coalition to help horses and the humans that care for them by sharing educational resources and expert recommendations from Corro's featured programs. As the one source for all things horse, Corro is dedicated to promoting horse welfare by ensuring that horse owners have everything they need to give back to the animals that give us so much.
In addition to offering a curated collection of the best horse supplies, the company also runs a Corro Top Rated program that helps horse owners find the right products for their horses with expert reviews and recommendations. Corro's active blog, Corro Stories, covers every aspect of horse care with insightful interviews, comprehensive guides, and top tips from equine professionals.
Keep reading to learn more about Corro's programs and how they can benefit horse owners everywhere.
Corro Top Rated
Corro Top Rated is the top resource for researching the best horse products with in-depth reviews of popular horse tack, stable supplies, and horse care items from equestrian experts. Corro introduced the program to provide horse owners with the professional insight they need to make the best care decisions for their horses.
Every month, Corro asks three expert equestrians to put five products to the test in side-by-side competition. Their expert judges come from all corners of the equine industry, but every Corro Top Rated judge is a trusted professional at the top of their field.
In addition to just helping horse owners care for their horses, Corro Top Rated also gives back to the horses who need it most by donating a portion of the proceeds from top-rated products to deserving charities chosen by that month's judges. Past editions of Corro Top Rated have supported horse rescues, therapeutic horseback riding programs, and other non-profits making a difference in the lives of at-risk horses and humans. The United Horse Coalition is proud to announce that we will be hosting direct links to this incredible information directly from our site.
Corro Stories
Corro Stories is a blog dedicated to all things horse. Written by horse people, for horse people, the blog aims to educate and inspire with authoritative articles that cover everything horse owners need to know to help their horses thrive.
With exclusive insights from top professionals, horse health guides, management advice, and heart-warming stories about special horses and remarkable horse people, Corro Stories is an unrivaled educational resource for horse lovers.
Learn More and Earn More With Corro
Corro believes that every horse deserves the best. Corro Stories and Corro Top Rated make best-in-class horse care simple, with resources and recommendations that help horse owners make the best decisions for their four-legged friends. To learn more about these programs, check out Corro Top Rated and read more on Corro Stories.
To top it off, Corro offers an incredible rewards program where you can earn money back on each and every order you make, to help make caring for your horses more affordable. To sign up for the rewards program, you simply need to create a Corro Account. Corro will also be providing us with the discount code UHC10 for $10 off your first order of $10 or more with them. Simply apply the discount at checkout, or click the direct link.  UHC has also provided this information on our website here:  https://unitedhorsecoalition.org/uhc-materials/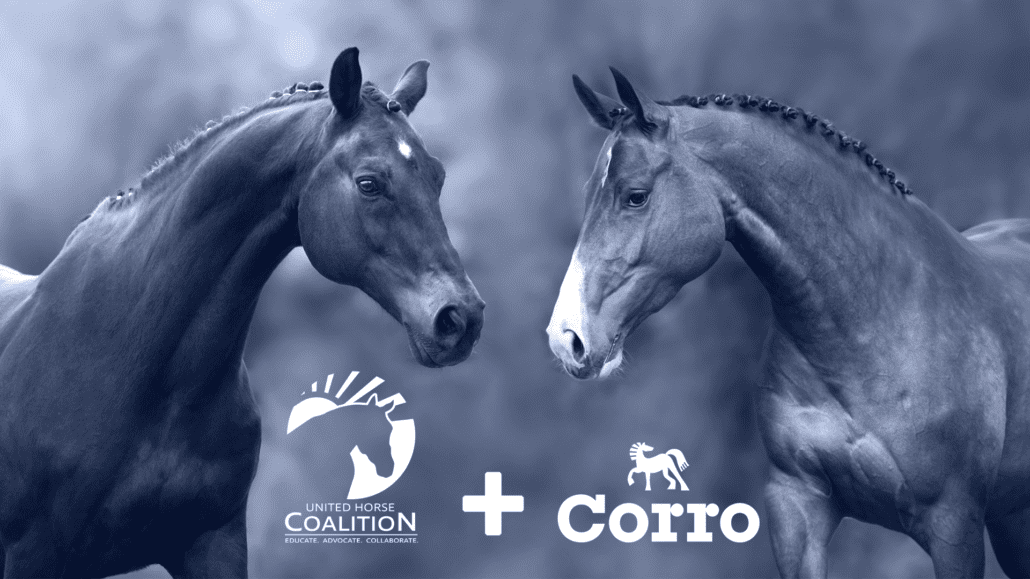 The United Horse Coalition is a broad alliance of equine organizations that have joined together under the American Horse Council to educate the horse industry about the issues facing horses at-risk or in transition. We seek to provide information for existing and prospective owners, breeders, sellers, and horse organizations regarding the long-term responsibilities of owning and caring for horses, as well as focusing on the opportunities available for these horses. 
https://unitedhorsecoalition.org/wp-content/uploads/2022/02/UHC-CORRO-PARTNERSHIP.png
1080
1920
Ashley Harkins
https://unitedhorsecoalition.org/wp-content/uploads/2019/03/UHCNLogo2019_landscape-300x113.png
Ashley Harkins
2022-02-28 14:38:14
2022-03-29 16:01:34
The United Horse Coalition and Corro create a partnership aimed at bringing educational resources (and more!) to horse owners Nationwide.