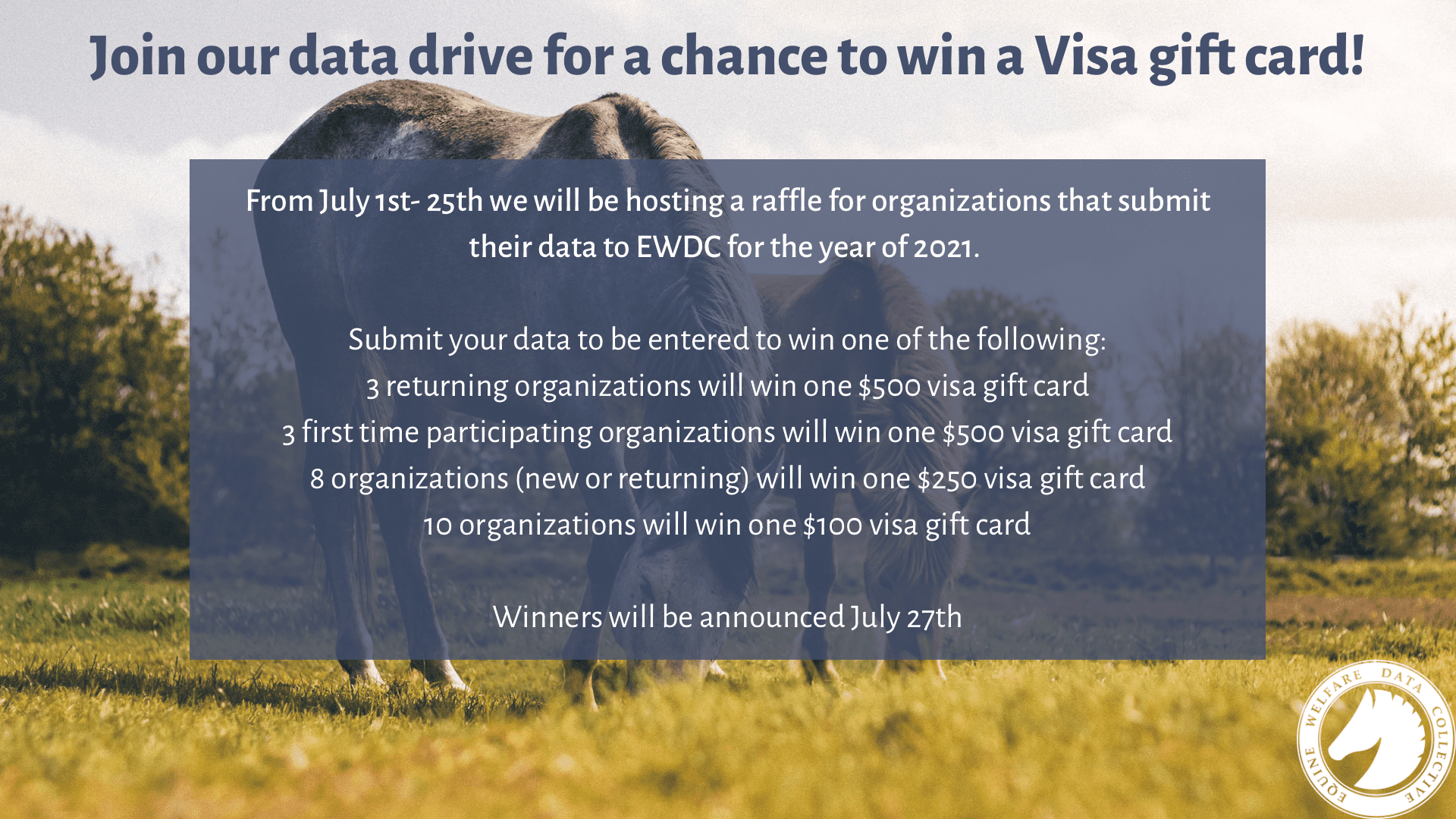 Contact: Emily Stearns
Equine Welfare Data Collective
Phone: 202.296.4031
E-Mail:  EWDC@horsecouncil.org
For Immediate Release
Equine Welfare Data Collective Announcing July Data Drive
The Equine Welfare Data Collective (EWDC) is looking forward to analyzing and publishing data for 2021 and we need you! Over 300 nonprofit equine welfare organizations have participated in the EWDC since its inception in 2018. To build excitement for our next report and encourage participants to get involved, the EWDC is hosting a July Data Drive.
From July 1st to July 25th, all 501c3 equine welfare organizations who have submitted an Organization Profile, as well data for the entire year of 2021 will be entered to win one of these raffle prizes:
Three returning organizations will win one $500 Visa gift card
Three first-time participating organizations will win one $500 Visa gift card
Eight organizations (new or returning) will win one $250 Visa gift card
Ten organizations (new or returning) will win one $100 Visa gift card
Organizations who have already submitted profiles and data for 2021 are automatically entered into the prize drawing. Winners will be announced July 27th. Don't know if your organization is up to date? Send us an email at EWDC@horsecouncil.org
Participation is free and results are analyzed and reported anonymously. Your data submission contributes  to an industry wide understanding of the needs of at-risk equines, those in transition, and owners in need. Our reports depict the hard work of hundreds of organizations working to help thousands of equines every year and allows grant funders, community advocates, and the industry at large to better target programming and assistance where it is needed most.
To join hundreds of participants across the country that contribute to the data collective, and enter your organization in the data drive, visit us at: https://unitedhorsecoalition.org/submit-data/
The EWDC is a collaborative effort to accumulate, analyze, and report data to enhance services for transitioning and at-risk equines. The EWDC was created by the United Horse Coalition (UHC), a program of the American Horse Council (AHC), with past and present funding partners being The American Society for the Prevention of Cruelty to Animals (ASPCA) and its program The Right Horse Initiative (TRH), the Foundation for the Horse, and US Equestrian Trust.
Participation in the EWDC is free, and all data collected is aggregated so no individual organization is identified. To view EWDC reports or contribute data, please visit the EWDC website at www.unitedhorsecoalition.org/ewdc/ or contact us at EWDC@horsecouncil.org.
Check out a promotional video for the data drive at: https://youtu.be/3F17g145ibs
About the American Horse Council and United Horse Coalition
As the national association representing all segments of the horse industry in Washington, D.C., the American Horse Council works daily to represent equine interests and opportunities. Organized in 1969, the AHC promotes and protects the industry by communicating with Congress, federal agencies, the media, and the industry on behalf of all horse related interests each and every day. The AHC is member supported by individuals and organizations representing virtually every facet of the horse world from owners, breeders, veterinarians, farriers, breed registries and horsemen's associations to horse shows, racetracks, rodeos, commercial suppliers, and state horse councils. Learn more at www.horsecouncil.org
The United Horse Coalition is a broad alliance of equine organizations that have joined together under the American Horse Council to educate the horse industry about the issues facing horses at-risk or in transition. We seek to provide information for existing and prospective owners, breeders, sellers, and horse organizations regarding the long-term responsibilities of owning and caring for horses, as well as focusing on the opportunities available for these horses. Learn more at unitedhorsecoalition.org