Equine Welfare Data Collective Releases Fifth Data Report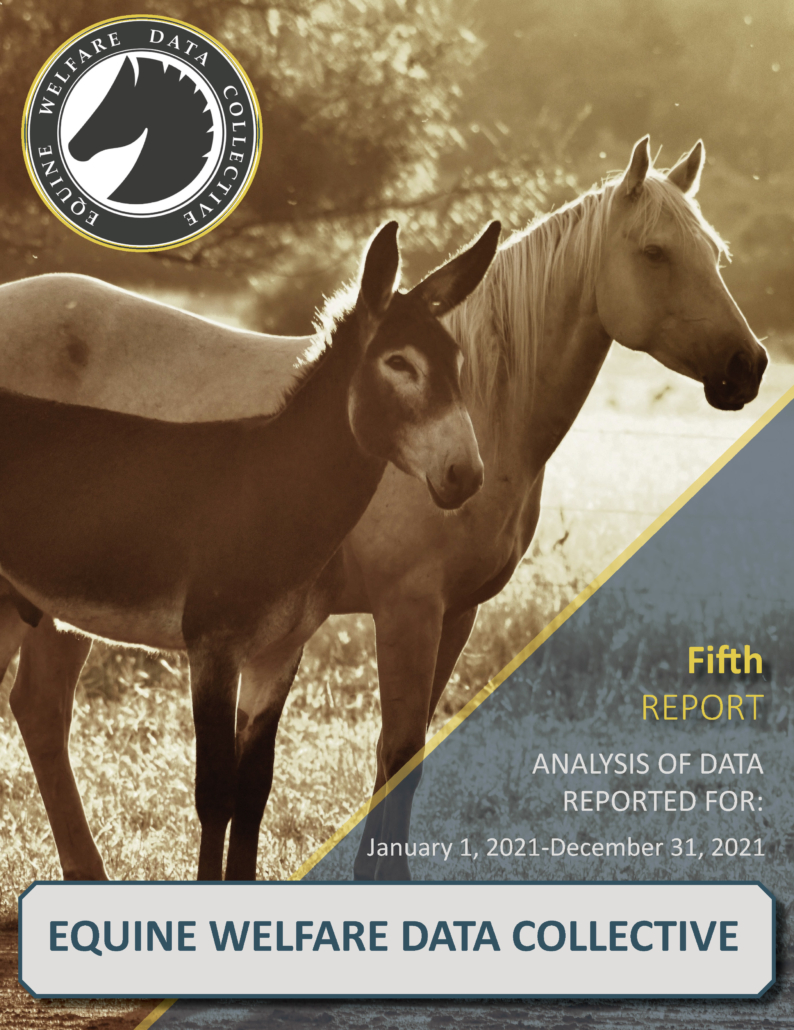 Contact: Kelsey Buckley
Equine Welfare Data Collective
Phone: 202.296.4031
E-Mail:  EWDC@horsecouncil.org
For Immediate Release
Equine Welfare Data Collective Releases Fifth Data Report
The Equine Welfare Data Collective (EWDC) is proud to announce publication of the Fifth EWDC report. Analyzing data between January and December 2021 from equine welfare organizations throughout the United States and Puerto Rico, this report covers all aspects of custodial and noncustodial equine welfare organizations in hopes of understanding any potential impact from the ongoing pandemic.
There are over 900 501(c)3 registered equine welfare organizations in the US. Reporting organizations are committed to sharing their data,  transparency of their statistics, and seek to measure their effectiveness and success against national and regional trends.
This report provides a detailed exploration of the status of equine sheltering during 2021. Similar to previous years, over 50% of equines entering the custody of shelters are being surrender directly by owners in need and nearly 20% are coming from law enforcement cases.
Additionally, the EWDC Fifth Report analyzed all length of stay data received since inception in 2018. Equines entering the custody of adoption, rescue, and transition centers spend an average of 257 days receiving care.
"The information presented in this report demonstrates the incredible scope of work equine welfare organizations across the country put in year after year. It also lays the ground work for identifying successful program models that can bolster the efforts of these organizations and help both owners and equines during times of difficulty," says American Horse Council Health, Welfare, and Regulatory Affairs Liaison, Emily Stearns.
Currently, the EWDC is moving to analyze 2022 data and will publish a series of smaller breakout reports tracking trends over the years and exploring the impact of COVID.
The EWDC is the only national research project collecting, analyzing data and reporting data from all US equine welfare organizations to inform and develop strategies to assist horses at risk or in-need. The EWDC was created by the United Horse Coalition (UHC), a program of the American Horse Council (AHC), with funding partners being The American Society for the Prevention of Cruelty to Animals (ASPCA) Right Horse Program, the Foundation for the Horse, and US Equestrian Trust.
Participation in the EWDC is free, and all data collected is aggregated so no individual organization is identified. Organizations that contribute data are the first to receive the results and are given an EWDC badge for their website to publicly demonstrate their commitment to the mission.
To view all EWDC reports or contribute data, please visit the EWDC website at www.unitedhorsecoalition.org/ewdc/ or contact Kelsey Buckley, EWDC program administrator at EWDC@horsecouncil.org.
About the American Horse Council and United Horse Coalition
As the national association representing all segments of the horse industry in Washington, D.C., the American Horse Council works daily to represent equine interests and opportunities. Organized in 1969, the AHC promotes and protects the industry by communicating with Congress, federal agencies, the media, and the industry on behalf of all horse related interests each and every day. The AHC is member supported by individuals and organizations representing virtually every facet of the horse world from owners, breeders, veterinarians, farriers, breed registries and horsemen's associations to horse shows, racetracks, rodeos, commercial suppliers, and state horse councils. Learn more at www.horsecouncil.org
The United Horse Coalition is a broad alliance of equine organizations that have joined together under the American Horse Council to educate the horse industry about the issues facing horses at-risk or in transition. We seek to provide information for existing and prospective owners, breeders, sellers, and horse organizations regarding the long-term responsibilities of owning and caring for horses, as well as focusing on the opportunities available for these horses. Learn more at unitedhorsecoalition.org
https://unitedhorsecoalition.org/wp-content/uploads/2023/02/EWDC-Fifth-Report-Cover_Page_01-scaled.jpg
2560
1972
Ashley Harkins
https://unitedhorsecoalition.org/wp-content/uploads/2019/03/UHCNLogo2019_landscape-300x113.png
Ashley Harkins
2023-02-16 16:00:50
2023-02-16 17:01:13
Equine Welfare Data Collective Releases Fifth Data Report